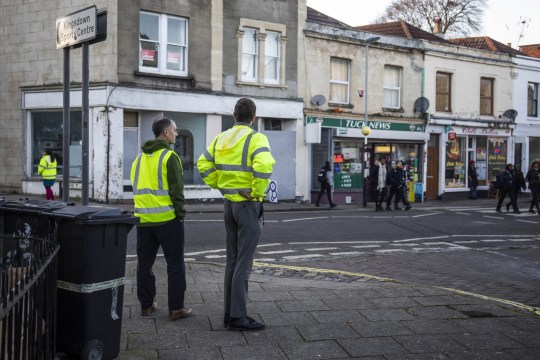 Maria Arpa
This week
Schools again
Plus…
Maria's Midweek Mindfulness 
and
The Wednesday Whisper
Is this really OK?
Of course those of you who have followed this blog for some time know that when I am pushed for time and need to write the blog to a deadline, it's always really easy to find yet another school that has lost the plot by behaving in ways which support ideas of bullying and intimidation as a good thing to do.
So at Cotham School in Bristol, teachers took to the streets in High Visibility jackets blocking doorways to local shops and also entering the shops handing out detentions to students in the shops without any consultation with the actual shopkeeper.
So much so that the owner of a local chippy who welcomes the students actually had to call the police to get the teachers to stop ruining his business.
OK, you say, there must be a reason and school business manager said: 'We supervise the parade of shops there and all the way from the school to the bottom of Nine Tree Hill for half an hour from 2.45pm to 3.15pm, and it is done to ensure the safety of children on their way home from school. 'We have 1,600 pupils, and 400 of them come out of school and come this way and head towards Stokes Croft and on into St Paul's.'
I am not arguing that there may be safety issues and, indeed, some shopkeepers may be intimidated by a lot of kids all at once. I am arguing that this is not the way to address the problem.
In 2012 we worked with a school that had similar problems and mounted police outside the school each day. Over the course of two terms we worked with the school staff, the students and the local residents and shopkeepers and worked it out through dialogue. The students invited the local shopkeepers to a meeting at the school in which they apologised with no prompting from the adults and asked if they could work out another way.
By the end of that meeting the manager of a chain was offering work experience and the manager of a local fast food restaurant was offering them jobs and the police decided they were no longer needed.
Maria's Midweek Mindfulness
When educators use power and authority like security guards, it teaches children that it's OK to throw your weight around if you believe you have right on your side. What I want children to learn is that when we want to do things that have an impact on others, it's important to be able to negotiate peaceful ways forward.
The Wednesday Whisper
How do you navigate the difference between the use of force and the power of negotiation?
If you like this blog and what we do at the Centre for Peaceful Solutions, please share it with anyone you think might be interested.
Take a look at the website www.centreforpeacefulsolutions.org and get in touch if you want to hear more.