Maria Arpa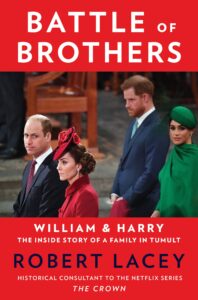 This week
Open letter to William and Harry
Plus…
Maria's Midweek Mindfulness 
and
The Wednesday Whisper
and their families.
Dear Brothers
It's hard to imagine the enormous responsibilities and complexities of being part of 'The Firm'. It's even harder to imagine a life with a constant spotlight on you and an expectant media waiting for any titbit or story that can be magnified and elaborated on as fodder to a hungry public. It is with these difficulties in mind that I am writing to you.
Of course, it may be that there is no substance in the story of a rift and that, as a public, we have been misled. Yet, perception is everything and that is how I am being educated to see the current 'stand off'.
It doesn't matter to me whether you are royalty or a couple of neighbours on a socially deprived housing estate, I tell myself you are two human beings in pain. I tell myself your pain results from many different aspects of your lives and is manifesting itself as a divide between members of a family that could benefit from healing.
I see you wielding your pain (or at least allowing the media to wield your pain) in ways that I predict you will regret later in life when you have changed and see the world differently, as you naturally will with age, only to find that the past cannot be set aside in a digital era where everything you say and do today can be thrown back in your face and your grandchildren's faces for as long as we can see into the future. I would like to contribute to the prevention of future humiliation that may come to visit you and your future generations later.
So, I'm asking you to consider some other way of healing your pain. I'm asking you to consider a different type of medicine. And, I'm asking you because, whether I like it or not, you represent me and the people of the UK. I actually want to feel proud of you so I don't like the way you are currently representing me and the nation, especially at a time when we have enough to contend with.
Today, I'm standing up and letting you know that your Grandmother awarded me an honour for 'services to mediation'. That, to me, is an acknowledgement that this process exists and has a place in society. I'd like to hope that you can find another way through mediation, that you will consider this other way and know that this other way is available and will be there whenever you are ready. And, though mediation is often a discreet and private service, I dream of a time when the people that represent us can openly say they are using mediation to resolve their difficulties so that far from being any sign of weakness, it is a sign of absolute strength and understanding that beyond our individual agenda there is a greater need to take care of each other and ourselves equally. And, in doing so our leaders change the hearts and minds of a nation in how the pain of conflict is healed. And, in that place of healing, a different and more holistic outcome is reached.
If this open letter ever makes its way to you, I want you to hear that I care deeply about you as brothers, I care deeply about how society chooses to resolve its differences and I care deeply that as humans we can do better than adversarial. Will you take a step towards healing?
Maria's Midweek Mindfulness
Marshall Rosenberg defined Mediation as 'sticking your nose into other people's business'. I found I'm quite good at it.
The Wednesday Whisper
If we hold up the headline generating rift in the Royals as an example of how not to do conflict, are there any areas of your life that could do with a more healing medicine? What will you do about it?
If you like this blog, please share it far and wide
A heartfelt request – back in lockdown, our charity shops are closed – please consider donating to the charity as we try to recover losses of Covid Restrictions due to the closure of our charity shops