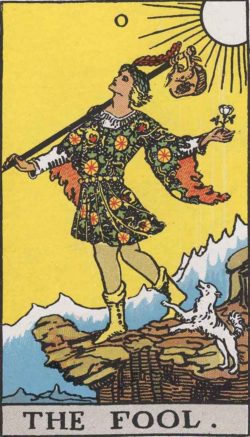 Maria Arpa
This week
What kind of fool am I?
Plus…
Maria's Midweek Mindfulness 
and
The Wednesday Whisper
"The world is full of fools.
  But there comes a time when you've got to decide if you want to be a fool among fools, or a fool alone."
Horace Vandergelder, Hello Dolly
There is nothing quite like seeing old Hollywood movies on a big screen as they were originally intended to be enjoyed. So last week David and I were at the BFI watching Hello Dolly in all its glory. Obsessed as I am with my work, my mind often wanders as I think about what a script would look like if the conversation was had using the Dialogue Road Map. (For example, I could rewrite the Barber of Seville as a 30 minute short story if Figaro had been a DRM Facilitator and sat the Count and Dr Bartolo down in a face to face meeting)  As the plot unfolded I heard the quote above which grabbed my imagination.
Certainly when I look at Brexit I wonder what fools we all are to be able to generate this amount of unhappiness. And then I realise that I'd rather be a fool among fools than a fool alone. So I'm rejoicing in all the imperfection and nonsense knowing that even though my triggers may go off daily, I have the power within to recognise that my triggers are a cue to step back, observe, feel, breathe and make a better quality choice than the action my trigger wants me to take.
Maria's Midweek Mindfulness
Learning to deal with triggers is proving to be a lifelong journey. Just when I think I have 'arrived', something will take me by surprise and remind me that I have more work to do!
The Wednesday Whisper
What triggers you and how do you react? What would you prefer to do instead?
Could you be the 'go to' person for healing conflict, restoring relationships and settling disputes in your workplace, business, family or community?
Would you get fulfilment from helping others to manage tension and conflict in their families, workplaces or communities or businesses?
Are you willing to invest in your own personal growth and development?
 Applications for 2020's training are open. Get in touch for more information.
Do you know anyone who could be interested that you can pass this onto?