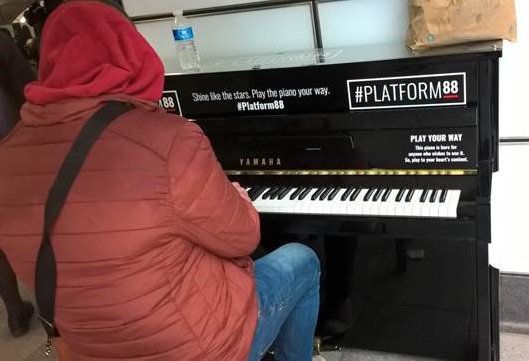 Maria Arpa
This week
Something Lovely
Plus…
Maria's Midweek Mindfulness 
and
the Wednesday Whisper
Lovely Leadership – Sweet Music
Recently, I got off the tube at Tottenham Court Road and heard some amazing piano music. I know they have started playing classical music at my local station, Kensal Green, so I assumed it was broadcast on the PA. Then I saw a guy sitting playing and I was delighted to see a PUBLIC PIANO for anyone to play.
What a fabulous demonstration of trust in the public. Maybe the Health and Safety Officer was on leave the day that decision was made?
Now I know that TFL is the subject of many complaints but this is a little bubble of sweetness.
Maria's Midweek Mindfulness
This week I'm in gratitude. Mainly for all the amazing people that support me with kind words, warm wishes and heartfelt love.
The Wednesday Whisper
What are you most grateful for in this moment?
Running a charity involves asking for help and support.

If you like this blog, would you post, repost, tweet and support us to get more subscribers.

If you want to know more please get in touch.

We'd love to hear from you.
Sharing is caring…
Find us on social media:
Join our community!
Volunteer in our charity shop here
For more information on Giraffe Ears Day, email us at enquiries@centreforpeacefulsolutions.org