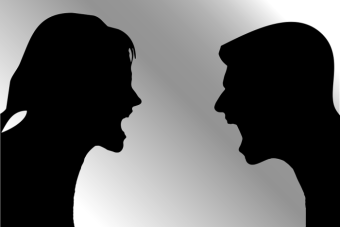 Maria Arpa
This week
Neighbour Disputes…
Plus…
Maria's Midweek Mindfulness 
and
The Wednesday Whisper
Been there, done that, got the t-shirt
When a family parked their van, their 82-year-old neighbour decided it was blocking her light so, in protest, she put on ear protectors, shoved speakers up against the party wall and blasted The Laughing Policeman, a music hall classic, on repeat every day, sometimes until 2am for two years. The family even built an extension to try and escape the noise. In the end the lady was taken to court and fined £450.
I began doing this work 20 years ago mediating neighbour disputes as a volunteer and it really is the coal face of mediation. The lengths people will go to in order to get the upper hand can be frightening. I worked on a dispute once where the neighbours had brought their sons up on the garden wall war and the sons continued it to the point of physical violence. Interestingly, with some preparation ahead of time, I managed to successfully mediate that dispute in half a day.
In almost every case it's possible to trace back to the original incident that kicked off the dispute and find that the very first incident was unintentional but the retaliation which escalates it was purposefully and intentionally designed to harm.
However, there is a very interesting social justice problem. People who live in social housing and don't own their own property are likely to call the police which turns the whole thing into a criminal justice matter. People who are more affluent are more likely to refer to a professional service such as a surveyor or lawyer making it a Civil matter. Amazing how the same scenario could end up as criminal or civil based on affluence?
There's a section on our website called 'Things you might want to try yourself' -I'm pleased to say that I have had at least a dozen people tell me that they saw this approach on the website, tried it and it worked. Sometimes, of course, this won't be the answer.
The main thing is remembering that it is usually very difficult to sort things out at the incident level. What's important is how you work out what happens after the incident and ongoing into the future. So, for example, you might ask a neighbour to turn their music down – funnily enough I just did that at 4am this morning (in my dressing gown) and in this case it worked well – but I usually wouldn't expect much to happen talking to a bunch of drunk people having a party. What's important is how you approach the person to have a discussion about how this will work in the future. What you don't want is an ongoing battle on your own doorstep with people you see regularly, no matter how good it  seems to get the better of them or how right you believe you are.
And, just in case you don't know the song referred to earlier or want to remind yourself – you can play it here.
Maria's Midweek Mindfulness
Living in close proximity to people you didn't choose is bound to throw up issues. The question for me is, should we expect that from time to time we will be disturbed and disturb others and learn to live with it, or should we recognise we live closely and therefore go out of our way not to disturb others. Without quality dialogue I can't see how it can be addressed.
The Wednesday Whisper
How do you deal with disturbance in your life. Who disturbs you? How do you handle it?
Would you be willing to send this out to anyone you think might be interested in getting a little dose of mindfulness each week?